Tras la reciente desaparición del rey del Glam, David Bowie, muchos han sido los medios de comunicación los que han querido rendirle un homenaje al fallecido cantante. Su modo de hacerlo ha sido dedicar sus respectivas portadas, cabeceras, primeras páginas y páginas dobles a Bowie para recordar su importante contribución al mundo de la música y de la cultura.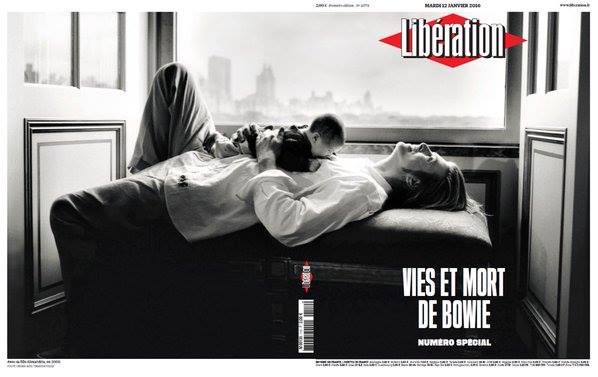 Medios impresos y digitales de todo el mundo como The guardian, The Telegraph, Los Angeles Tmes, International New York Times, Yorkshire Evening Post, Information, Metro, Liberation, Il Manifestó, Le Monde, Independent, Daily Mirror, The Sun, Daily Express, The Irish Times, Evening Times, The Courier Mail, London Evening Standard, New York Post y Herald Sun entre otros, han destacado la figura de David Bowie plasmando la imagen del artista a través de diversas fotografías de Bowie en sus múltiples facetas.
Una de las imágenes que más se ha repetido ha sido la ya mítica, perteneciente a la serie titulada Bowie Series del fotógrafo Brian Duffy, en la que Bowie aparece con un rayo pintado en la cara.
Te dejamos con un recopilatorio de 15 portadas homenaje a David Bowie:
Tuesday's Yorkshire Evening Post (via @LeedsNews): RIP Starman of Leeds #tomorrowspaperstoday #bbcpapers pic.twitter.com/UyywnW8MC5

— Nick Sutton (@suttonnick) enero 11, 2016
Tuesday's i front page: Ashes to ashes David Bowie 1947-2016 #tomorrowspaperstoday #bbcpapers pic.twitter.com/Sik2Pr9xAH

— Nick Sutton (@suttonnick) enero 11, 2016
The Guardian front page, Tuesday 12 January 2016: David Bowie 1947-2016 pic.twitter.com/jZqpfu1RPP

— The Guardian (@guardian) enero 11, 2016
Tomorrow's front page tonight #bowie #heraldsun pic.twitter.com/OOh2ApedNd

— Gary Oxley (@OxleyGary) enero 11, 2016
Monday's 'London Evening Standard' front page: DAVID BOWIE R.I.P. #London #UK #RIPDavidBowie pic.twitter.com/b5ufdB3byn

— ⓒⓕ (@cfmcfc) enero 11, 2016
Tuesday's Daily Mirror front page: …and the stars look very different today #tomorrowspaperstoday #bbcpapers pic.twitter.com/ULl4L4R2tR

— Nick Sutton (@suttonnick) enero 11, 2016
Tuesday's front page of @irishexaminer contains our tribute to David Bowie (1947-2016) #DavidBowie pic.twitter.com/wJ14KwslED

— Irish Examiner (@irishexaminer) enero 11, 2016
What a front page by @libe The life and death of David Bowie pic.twitter.com/vdEbZHAouk

— Elaine Byrne (@ElaineByrne) enero 11, 2016
Cracker @couriermail front page. @LachlanHeywood's 1st as ed. #Bowie tributes by @NoelMengel, Molly & @cameron_adams pic.twitter.com/sJiKMbUqJP

— Daniel Johnson (@danjohnson1979) enero 12, 2016
Tuesday's Telegraph (Scotland): SNP case against BBC dismantled #tomorrowspaperstoday #bbcpapers #scotpapers pic.twitter.com/83ESnACB2L

— Nick Sutton (@suttonnick) enero 11, 2016
Our front page is dedicated to David Bowie on this sad day… pic.twitter.com/nz2mmAa1Z8

— The Evening Times (@TheEveningTimes) enero 11, 2016
Tuesday's Daily Mail front page: Floods chief quits in shame #tomorrowspaperstoday #bbcpapers pic.twitter.com/oKamHAnjYi

— Nick Sutton (@suttonnick) enero 11, 2016
Tuesday's Sun front page: 'Look up here, I'm in heaven' #tomorrowspaperstoday #bbcpapers pic.twitter.com/z2O7aJKwRm

— Nick Sutton (@suttonnick) enero 11, 2016
Tuesday's Independent front page: David Bowie 1947-2016 #tomorrowspaperstoday #bbcpapers pic.twitter.com/WoA5KvHia1

— Nick Sutton (@suttonnick) enero 11, 2016
Tuesday's Metro front page #Bowie pic.twitter.com/qC0kURXJ53

— Ted Young (@tedbyoung) enero 11, 2016